Let us begin by saying one thing: you, reader, are essential.
It's easy to get caught up in the fear and stress of the current climate. Before we talk about what makes pallets essential, we hope you'll forgive us this time to remind you of the real essentials; people, their communities and how we take care of each other.
As states put out stay-at-home orders and urge businesses to close, the pandemic required the sorting of essential and nonessential business. While many companies closed to protect their customers, coworkers and community, other industries are working on overdrive to meet current needs.
The Department of Homeland Security's message is that "If you work in a critical infrastructure industry … such as healthcare services and pharmaceutical and food supply, you have a special responsibility to maintain your normal work schedule."
Enter the pallet.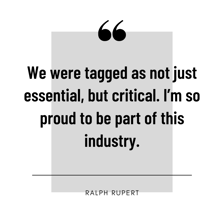 With the increase demand for medical supplies, food, sanitizer and pantry items, pallets are essential for getting desperately needed products to the grocery stores and hospitals, among other supply chains necessary to our safety and health.
"Our current economic system could not function without the pallet enabling the transportation of goods easily and efficiently," said Ralph Rupert, unit load manager.
"The current crisis has really brought home the fact the pallets really do move the world. It was very heartening to see that the governmental leaders quickly recognized the need for the pallet industry to keep our supply chain moving and in turn keep our economy strong. We were tagged as not just essential, but critical. I'm so proud to be part of this industry."
We take our responsibility seriously. Millwood team members continue to diligently serve the supply chain as we adjust and adapt to the ever-changing environment.

Our communities depend on it.