Independence day is tomorrow! While many of us celebrate with fireworks, parades and picnics it's equally important to consider our country's history and the way we received our independence.
Millwood, like many others, believes the best way to honor the Fourth of July is to celebrate our service members who continue the fight for our independence every day. While our founding fathers fought for our freedoms, it is our service members who protect those freedoms.
Trish Rolland, corporate events planner, felt called to create a new program at our corporate office that celebrated our soldiers. Recognizing that many of our brave service men and women have no one at home sending them letters or care packages, she decided to introduce our corporate office to "share packages."
The packages were sent to friends and family members of Millwood team members with enough letters and goodies to share with their entire platoon. They were also given an email address to contact our team with requests for our next package or the addresses of other soldiers that need a reminder of home.
Through the month of June, we collected food, toiletries, letters, books and many more items to stuff in our share packages. What started as one person's calling turned into a committee of people who are organizing another share package program to continue the mission. In the photo below from left to right: Trish Rolland, Ashley Toth (Administrator), Brianna Cohol (Customer Service Rep) and Laura Philibin (Sourcing Manager).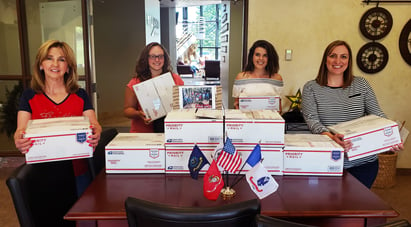 If you have a loved one serving abroad and would like them to be included in our Share Package Program, leave a comment below and we'll reach out to receive his or her address and anything else you'd like to share about the individual.
If you don't have the means to organize your own share box program, there are many other ways you can get involved. Sending cards and letters are a great way to remind our service men and women they haven't been forgotten, or you can reach out to your local VFW (Veterans of Foreign Affairs) office to find out what other needs you may be able to serve.
If you have a service member you would like us to include in our package program, feel free to comment below and we will reach out to you for an address and suggestions for what to include in their box.