With Earth Day just around the corner, Millwood is highlighting some of the most creative ways to repurpose pallets.
All it takes is a search on Pinterest to see all the verities of decoration and furniture that can be made out of a pallet. But Sian Healy, finalist of the Miss England pageant, caught our eye immediately with her gown made from pallets.
The dress secured Healy with "The Green Goddess" title for her creative and fashionable eco-dress. She also won "Best Dress" and the "Best Promotional Campaign" in the Miss Coventry finals, ensuring her spot as a finalist for Miss England.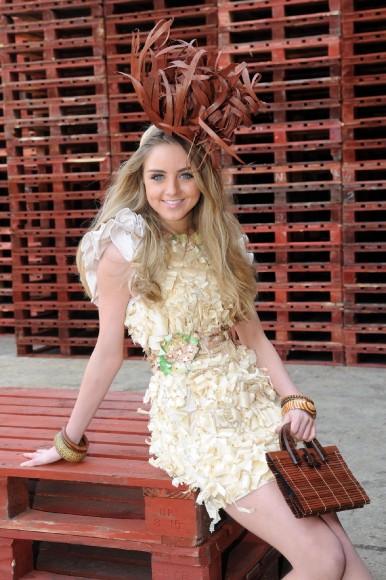 Healy, who was a victim of severe harassment and bullying online that escalated into a coordinate attack outside her hotel, initially shutting herself off from the world. She is now using her role in the pageant to raise awareness for MIND, a mental health charity for youth to overcome anxieties. Even the pallet dress was connected to her message.
"The pallet was re-purposed by Freya Brown, to highlight its versatility and ability to bounce back – very much like victims of bullying should," said Shelley Harris, Head of Commercial at Pooling Partners, the company that supplied the much needed pallets.
The dress took ten hours to complete, and was made with wood shavings of pallets. They were then carefully stitched to the underwire of the dress. A large headpiece was also designed and constructed out of painted wood shavings.
To complete the ensemble, she carried a small bag made from tiny splinters.
Congratulations to Sian Healy, and good luck to you at the Miss England competition! We commend your creative thinking, positive attitude and determination to protect others from bullying.
Much of the info from this blog came from the Fresh Produce Journal, as well as The Coventry Observer.