A group of Millwood, Inc. team members from our Columbus and Hamilton locations came together last week to assist in tornado recovery in Dayton, Ohio. It was especially important to the team members from those plants, as Dayton is close to them and part of their community.
The group worked on June 6th and 7th to help families that were displaced by the tornadoes.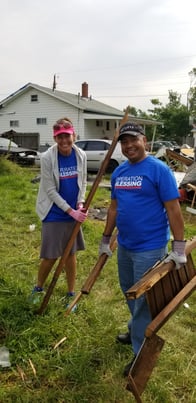 "There were neighborhoods that had trees that were snapped in half," said Jody Jones, regional chaplain coordinator and one of the main organizers for Millwood's mission team. "There were trees that had been twisted, neighborhoods cluttered with metal, clothes, and debris from houses.
The team worked with Operation Blessing International, a nonprofit humanitarian organization, to clean out debris and build relationships with residents there in an effort to begin the rebuilding or even relocating process.
Millwood Cares, a program that developed to assist Millwood team members with their professional, personal and spiritual growth through four pillars – heart, mind, body and spirit, sponsored the trip.
The team helped by cleaning up debris from the houses, cars, storefronts and apartments that were damaged. They also helped families move their belongings out of the damaged homes to get the relocation process started. In one instance, they worked to remove a roof that had fallen from one neighbor's home into another's yard.
"We would start and finish every job with a prayer while standing in a circle holding hands," Jones said. "We would start our work order as strangers, and leave the families we helped as friends."