A group of Millwood, Inc. team members from several locations across the country came together in an area that one month ago saw 40 inches of rain following Hurricane Florence.
The team, which consisted of people from our Apple Creek, OH; Dundee, OH; Glenwillow, OH and corporate locations, departed Sunday, Sept. 30 from airports and roadways across the country and met in New Bern, NC.
The team worked with Operation Blessing International, a nonprofit humanitarian organization, to gut homes from top to bottom so contractors could come in and begin rebuilding.
"The lead from Operation Blessing remembered the Millwood Cares team from our help in Texas after Hurricane Harvey," said Jody Jones, regional chaplain coordinator. "They were impressed with what we were able to accomplish their and looked forward to us helping out here also."
Millwood Cares is a program that was developed to assist Millwood team members with their professional, personal and spiritual growth through four pillars – heart, mind, body and spirit.
When they arrived, there were 70 work orders across North Carolina that Operation Blessing was responsible for. The Millwood team was able to help with four.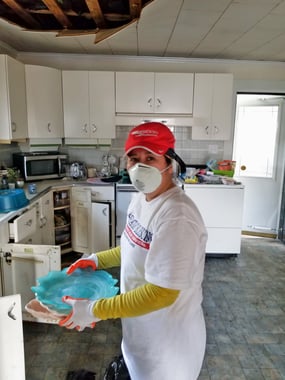 As the team made their way to the first home, they drove by pile after pile of rubbish. After passing what seemed like miles of lifetime memories waiting to be picked up by the local trash collector, there was a church. On the front stoop stood a chalkboard with a simple message, "God will make a way."
"What is amazing is the people. I worked with a man that had his home destroyed, yet he helped us with a friend's home," said Cassie Kovach, human resources administrator.
"The first job we were on was for a widow of a military servicemen. She was very shaken up and overwhelmed," Jones said. "When we showed up, we reassured everything was going to be all right."
Jones said it took the team two days to complete this job but was well worth it and eye opening for everyone.
"At the end of the second day, we went to the beach with the homeowner, prayed and gave thanks to God with her." Jones said. "Our assistance and presence helped her believe everything really was going to be OK."
The team of volunteers finished three more jobs before their departure on Friday, Oct. 5.
"This trip made me realize that life is what you make it. Material possessions are nothing. Family, friends and health are everything you need in this crazy world. It humbled me," Kovach said.