Mahoning Valley, the home of Millwood's corporate location, has its fair share of struggles. The opioid epidemic has not been kind to the Youngstown/Warren regional area, and the loss of industry has hurt many families.
Don't discount the area though - for every struggle, there are five more people behind it trying to support the community. It is no coincidence that one of Millwood's pillars is servitude. Our home is full of the "helpers" that Fred Rodgers recommends looking for in times of trouble.
We thought we would follow the lead of these great helpers and came across an idea to help assist the area with food hardship; a giving garden.
Our giving garden has cherry tomatoes, squash, cucumbers, lettuce and beans. A group of Millwood team members came together in June to build our garden box, donate veggies and build our very first garden. The gardening team plans to expand every year to produce more and more food each year.
In the Mahoning Valley, 22% of residents don't have the means to provide or access to food. Our area is second worst in the country when it comes to hunger rates, falling slightly behind Bakersfield, CA.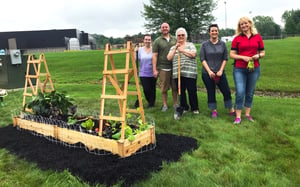 Millwood's garden isn't the only one trying to combat those numbers. On harvest days, other team members bring in produce from their gardens at home, adding to the bounty that is donated to whatever program our corporate chaplain sees has the greatest need.
This summer, our veggies have gone to God's Refuge House, a Christ-centered residential addiction recovery program for women based in Warren, OH. Their foundation "is built on a Christian faith-based recovery program consisting of women who have the opportunity to live in a residential setting for an extended period with uninterrupted sobriety. Women learn how to maintain mental, spiritual and emotional stability while building a strong foundation that provides a positive future."
Interested in starting your own giving garden? They're an easy fun way to help your community, and they also offer a great bonding opportunity for team members who spend their days behind a desk. For more photos of the garden, check out our Facebook photo album here.