It's been more than 3,200 days since the team at the Millwood, Inc. Glenwillow, OH location has reported an accident. That's nine years, if you were trying to figure out the math.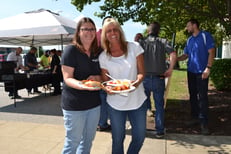 The team there was rewarded with a celebration Wednesday that consisted of fellowship, food and drinks. Several team members from the corporate offices in Vienna, OH were in attendance to show their appreciation for the team's attention to detail and daily mindfulness of safety in the workplace.
"I really appreciate the effort. It's not without focus and consideration for each other that you achieve this," Vice President Operations Brad Arnold said. "It really is outstanding. It's unheard of in our industry. What you guys have done is outstanding."
According to the National Safety Council, there were 560,000 medically consulted injuries in the manufacturing industry in 2016. Safety in the workplace continues to be a hot-button issue and one Millwood, Inc. takes seriously.
Matt Pacurar, Glenwillow plant manager, was hired as the first shift supervisor at Glenwillow in 2008. He was promoted to plant manager in 2013. The procedures he has in place is why he said they have been able to stay injury-free for so long.
"The safety performance in our facility is a continuous, combined effort from all of the team members and management. Safety is the first thing that we speak to all new employees about," Pacurar said. "We provide very detailed training notifying the team member of all hazards in the work area. From there the trainer along with the veterans on the floor keep constant eyes open for all safety issues or unsafe acts by the new team member."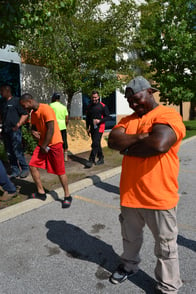 Aristos Panas is a plant supervisor at the Glenwillow location and is currently training to become the location's next plant manager. He's been there for the past 14 years and has seen this remarkable accomplishment firsthand and looks forward to continuing the longstanding tradition.
"I think housekeeping is one of the biggest things. Making sure [the pallet repair] areas are cleaned up, their brooms are hung up, and there are no trip hazards," Panas said. "We need to continue drilling them with safety every day."
This milestone is a record within Millwood's 30 locations across the U.S. and one Pacurar said he holds near and dear to his heart.
"I was told by another leader when I took the plant manager position that it was my responsibility to make sure that every single team member goes home in the same condition they arrived," Pacurar said. "I have strived to make sure that has happened every day. I am humbled and honored to know that all of my team's efforts have allowed us to achieve this milestone."
For more photos from the event, check out our facebook album here.