Millwood is a dog-friendly company, and our corporate office in Vienna, OH has long been welcoming to our team members' dogs. According to
the American Heart Association
, studies show that having pets in the workplace reduces stress and anxiety and increases employee satisfaction at work. Pets are a beloved part of the family, and at Millwood, family is a priority.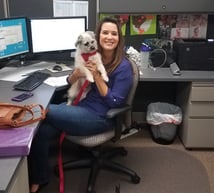 Friday, August 26 was International Dog Day, and Millwood celebrated with a virtual pup parade. Millwood's corporate location started the tradition of a Dog Day celebration in 2017 with a
"bring
your dog to work" event, in which team members' fluffy friends joined the workplace for a day of fun. Past events included homemade dog treats, lunch from a food truck, donations for a local animal shelter and outside group playtime.
When the office went remote, 2020 and 2021 Dog Day events went virtual. An online Dog Day celebration meant we could include even more Millwood pooches and pups.
This year's Dog Day video was our largest yet, with over 60 submissions from facilities across the country.
Check out the video below to enjoy Millwood's many four-legged friends!