As our CORE Erosion Control Services sales team continues to grow their territories and expand the business, Millwood is looking to new ways to serve our customers and adapt to the growth. As a result, we are now the proud owners of a small army of sock-knitting machines.
CORE filter socks, one of our most popular CORE products, are tubes of knitted mesh stuffed with biodegradable material (like recycled pallet chips) that serves as a filtration system for water runoff. They come in a variety of diameters and lengths and are used in various industries to contain potential erosion or contamination of the natural area.
Our machines are able to manufacture one roll of sock in 35 minutes and can be programmed to produce a variety of sizes. The project, headed by Operations Director Chris Verbosky, took six months to complete.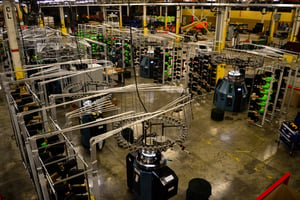 "We purchased this equipment so we could control our own destiny rather than relying on a supplier," Verbosky said. "This was just an additional way to support our internal production of filter socks."
The team spent two months researching different machines and equipment before settling on one made from Vanguard. The machines, which took between seven to nine weeks to build, started popping up at the beginning of the year in our Vienna, OH facility and now command their own station of the building.