Hurricane Harvey, the first category 4 hurricane to make landfall in Texas since 1961, has
delivered a devestating blow to the people, infrastructure and economic marketplace of the greater Houston area. Our thoughts and prayers are with the victims of this disaster.
Over 50 inches of rain has hit the area, with more coming. This has displaced people from their homes and destroyed businesses. As you may have noticed from the rising gas prices, many natural gases have been affected as well. Over 50 percent of North America's ethylene capacity is down at this time, affecting stretch film suppliers throughout the country.
Due to the halted rail system (which transports the majority of the resin needed for stretch film) and the shortage of man power and raw materials, film orders may be disrupted with changes in lead time or pricing.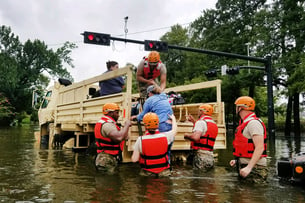 Thankfully, most of Millwood's vendors, customers and sales managers in the area
have not suffered from this natural disaster. We will continue to monitor the situation as it develops and offer assistance to our
Millwood
family while they rebuild,
recover and show us all what it means to be Houston Strong.
If you are interested in helping the victims of Hurricane Harvey, there are several great opportunities to do so. The
Red Cross
is taking donations, as is the
Center for Disaster Philanthropy.
You can also check out the Amazon wishlist from
Undies for Everyone,
a philanthropy that serves to bring dignity to all displaced people in the Houston area.