With Modex 2020 around the corner and a booth full of systems, now seems as important a time as any to refresh our readers with some of the lingo you might hear if you visit us at the booth. Unlike those of us in the packaging industry, most professionals hope to avoid (or at least find unnecessary) the unique details that go into designing the perfect unit load and packaging system. With a variety of stretch wrappers, shrink systems and ergonomic equipment, there's a lot to keep track of and many customers are too busy with their own business to learn about the transportation of their goods.
That's where we come in! While pallets may be our bread and butter, we offer a wide variety of products to help unit loads safely move throughout the country. Our job is not just to offer the best equipment for the job, but to help you understand why.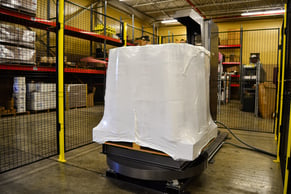 Here are five important terms for systems students:
Shrink System - Different than the stretch wrapper that readers learned about in our first systems lesson, shrink wrappers use heat to shrink a bag over and around a load, rather than wrapping around the load with film. You can see it in action in our booth at Modex or in this video.

Low Profile Turntable - A turntable that is positioned less than three inches from the floor. A stretch wrapper with a low profile is best for pallet jacks to load and unload using a ramp.

High Profile Turntable - A turntable that is elevated to provide easier loading and access for forklifts.

Ergonomic Equipment - Products and machinery used to prevent injury or promote comfort during the material handling process; our Liberty Lifter will be at the show to demonstrate one of many ergonomic solutions Millwood offers.

Vertical Reciprocating Conveyor - A VRC is a system that lifts loads from one conveyor to a conveyor at another level, much like an elevator for pallets. You can meet several experts at Modex that serve on MHI's VRC committee.
Did you enjoy this mini-systems lesson, or do you have bigger and bolder questions that need answered? Let us know in the comments and we'll do our best to address your questions as they come!