Chad Radke recalled visiting worksites with his dad as a child where employees participated in different team-building activities. That stuck with him and became an important part of his leadership role at the Millwood, Inc. pallet repair plant he manages in De Pere, WI.
That one skill has allowed him and his leadership team to find a creative way to help team members and their families deal with the ongoing COVID-19 pandemic
Team members at the plant received disposable nuisance dust masks this week to take home and decorate with their children and family. On Friday, they will bring their finished product with them to work. They will also take photos of the team members wearing their masks so they can share it with their family.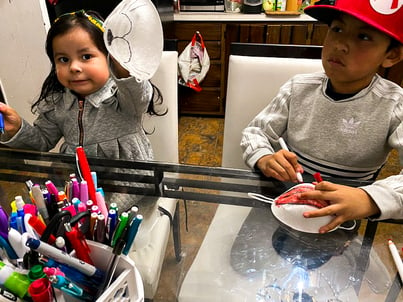 "There are a lot of unknowns right now – viruses, isolation, home schooling. This event is an easy way to break that time up and spend some time interacting with each other in a different way," Radke said. "They could even consider it their art [activity] of the school day."
The team in De Pere work throughout the year planning different events that will allow everyone to come together as one, creating a family atmosphere. The idea came about while they discussed this year's Easter event, when social distancing and the ongoing pandemic forced them to come up with something different.
"We try to plan events throughout the year that bring families together. Sometimes it is easy to get caught up in your work life and that spills over into home life," Radke said. "We want to make up for that by providing events that promote quality family time."
Radke said Millwood's culture and family atmosphere across the company make this area of his job easy.
"We're fortunate enough to work for a company that not only talks to you about being a family but also puts in the time to prove it. I love being able to sit down with my team and figuring out the best way to impact our team member's lives for that month," Radke said. "We'll continue to grow and develop our team, to promote family, to give back and serve the team so they can be the best they can be."