Our facility in Cudahy, WI recently implemented a new style to their repair line in an innovative move to improve quality and efficiency. Millwood started testing the new set-up in our Alburtis and Leetsdale plants with great success, and is now looking to update more plants.
"The main focus was to increase throughput for the guys and improve pallet quality," said Plant Manager Antonio Reyes.
Previously, the pallet repair line in Cudahy required twelve team members. This change is increasing efficiency by facilitating the same output of pallets with less team members available or employed at the facility.
With the old repair line, a team member was responsible for each aspect of the pallet repair process, which includes removing broken pieces, replacing components of the pallet and checking the safety and quality of each pallet
"The new line allows our team members to become specialized in a specific part of the process, rather than attempting to do it all at once," Reyes said.
Because team members are able to focus on a single aspect of the pallet repair process, they are more effective by focusing on their strengths. For example, someone who is better at removing broken boards can focus on excelling in that singular task without needing to struggle with the additional parts of the process they may not feel as comfortable or capable of doing.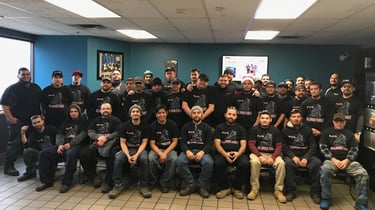 The throughput has remained consistent even with a smaller staff, which in turn increases their piece-rate wages. The new line also saves money by reducing recruitment and retention costs that many labor-market companies struggle to meet.
"When we're able to pay employees more and make their jobs easier," Reyes said.
While the new line may not be the right fit for all 25 of Millwood's pallet repair facilities (it does have a larger footprint and requires a larger space), it is certainly a success where implemented. We will continue to improve and update our processes to reinforce both employee and customer satisfaction, and look forward to seeing which of our facilities will be next to adapt without sacrificing quality or quantity, we want to jump on those opportunities," Reyes said.