In 2019, Millwood's Vienna, OH Regional HR/Safety Manager, Dave Stewart, donated lumber to a nearby summer camp to use for remodeling and decorations.
Camp Carl, located in Ravenna, OH, is the site of Millwood's corporate office summer picnic, as well as a partner in our summer camp program for children of local Millwood team members. The camp hosts over 2,000 campers each summer, giving them a safe, Christ-centered way to experience the great outdoors. When Corporate Events Coordinator Trish Rolland, who works closely with Camp Carl each summer, informed Dave that the camp was looking for lumber, he was more than happy to help them out.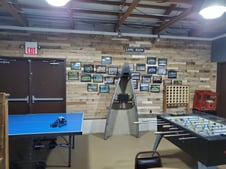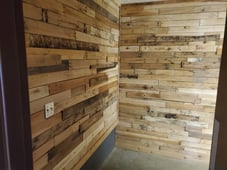 Recently, Dave returned to Camp Carl to drop off his great-niece and her friend for camp, and he saw the beautiful results of that lumber donation. Camp Director Tom Sullivan used the donated wood to create décor throughout various parts of the camp, including the game room, gym, and restrooms.
"What Tom was able to do is awesome," Stewart said. "I thought it looked really nice."
Thank you to Dave and Tom for coming together on a project that ultimately creates a better experience for children attending camp. See the pictures below to see the great work they've done.