In honor of International Women's Day on March 8, Millwood, Inc is celebrating women for the entire month of March. The women of Millwood make an impact every day in and out of the workplace, and we are honored and blessed to call these women part of the Millwood family. Today we honor three international women who have chosen to become part of the Millwood team in Tunkhannock, PA. We are grateful for all the hard work they do and we look forward to seeing what they can accomplish each day.
Yes, women can operate a forklift and sort 45-pound pallets during an eight-hour shift. It's being done today at our pallet repair facility in Tunkhannock, PA.
Bernarda Lopez, a 26-year-old mother of two from Oaxaca, Mexico, is proof. Lopez, who moved to the U.S. when she was nine years old and currently lives in Meshoppen, PA, is a forklift driver at the Tunkhannock plant.
When Lopez started at Millwood, she didn't know how to drive a vehicle, but she rose to the challenge and became one of only a few female forklift drivers in the facility.
"I would tell her to not be afraid and to try it," Lopez said of the advice she would give any woman interested in operating a forklift.
Lopez added that she is proud to be a woman in a predominantly male position and enjoys working at Millwood.
Sarahi Vasquez-Diaz, another forklift driver at the Tunkhannock plant, describes herself as an independent woman. Diaz, also from Mexico, said she is proof that she can accomplish the same job as a man.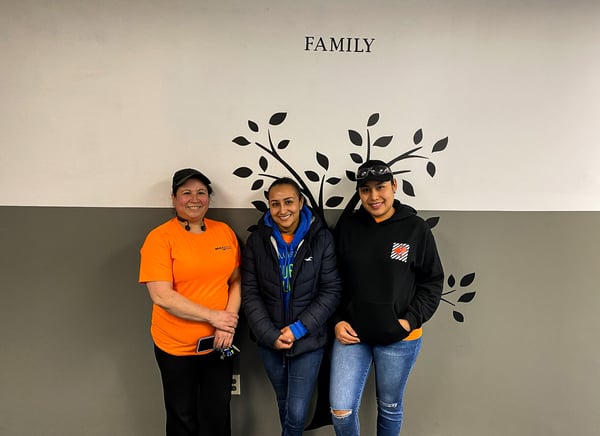 She isn't one to shy away from a challenge. Her job can be very difficult and demanding at times, but she meets those challenges head-on and encourages other women to do the same.
"It feels good to do different jobs. I like to see that women can also do men's jobs," Diaz said.
She added that she enjoys her job at Millwood because she can work independently to perform her job duties.
Blanca Alvardo, a first shift operator at the Tunkhannock plant, said she is focused on self-improvement and enjoys bettering herself each and every day. Alvardo is from El Salvador and said she loves proving that a woman can do the same job as a man, regardless of how physically demanding it may be.
"I would tell them [other women] not to be intimidated because it looks physically demanding," Alvardo said.
Women like Blanca help pave the way for other women to feel less daunted by physical-labor jobs.
These inspiring women of Millwood show that no matter your gender, you can accomplish anything you set your mind to. They remind us not to allow stereotypes to change how we think about women in male-dominated workplaces and continually prove that they are just as strong as the men whom they work alongside.