Back to school can be a challenging time for parents as much as it is for their children. Adjusting to a new schedule and gathering all the needed supplies puts weight on parents' shoulders during this transitionary time. Millwood hopes to ease some of that weight by giving back to our team members and communities.
Several Millwood facilities recently gifted school supplies to their team members to help them prepare for the year ahead. The leadership and chaplains at our South River, NJ, De Pere, WI
,
Cudahy, WI
and Florence, SC
facilities each
organized their own program
.
"Every year we have this event where Millwood provides schools supplies for all the team members' kids," Pastor Yonatan Alvarez, chaplain from De Pere, WI said.
"This
is one of the ways we show love to them."
All team members received backpacks with school supplies, regardless of their parental status. Those who do not have children were asked to either donate their supplies to another team member with multiple children or pass their gifts on to s
omeone
who could use them.
"
My wife is a teacher, her entire family are teachers, and my parents are teachers. Education is important to me and my family," Kelly
Singerline, plant manager of our South River facility,
said.
"If
I can help out my team members just a little
by giving
them some school supplies and a backpack to start the school year, I'm happy."
The team in Cudahy, WI also has a tradition of gifting school supplies.
"For the eighth year, we had the opportunity to give team members back-to-school supplies for their children," Pastor Modesto, chaplain in Cudahy, WI said.
"I
shared with the team members that this small action from the company makes a difference, and our mission is to be better every day by doing good."
This is an extension of Millwood's corporate mission, which is
"
for
all who come in contact with Millwood to clearly see the love of Christ in all that we do
." Each facility is responsible for creating an environment that aligns with this goal based on the needs of their team members, customers and community.
In mid-August, Millwood's Florence, SC facility and their chaplain Pastor Jeremy Plowden partnered with a local ministry and community association to provide backpacks full of school supplies to 50 families and over 75 children. In addition to material assistance, they were also able to provide their community with solidarity and prayer.
"This day was marked by the ability to pray not only
for
but
with
several groups of families," Pastor Jeremy said.
"At
a time when gas prices are high and school supplies are hard to obtain for some families, giving away school supplies opened doors
to provide
ministry to these families."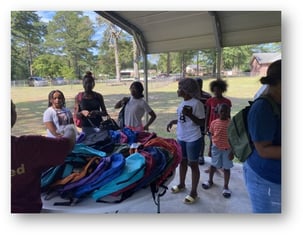 Pastor Jeremy and other volunteers prayed with families over the anxiety and uncertainty that comes with a new school year.
"This event created some amazing moments of prayer for the safety of the children this upcoming year," he said.
"There
were also moments of prayer with children that were concerned about bullying and going to a new school. There was
even
a moment of prayer for individuals who haven't been physically in a church since the beginning of the pandemic."
Thank you to Millwood Cares and the plant leadership who made these events possible to show love to our team members, their families and the community. We wish the best of luck to all the students embarking on a new school year.