It happens every New Year's Eve; we make big plans for exercising more, eating better, spending more time with family and other resolutions that become difficult to commit to by the time February rolls around.
At Millwood, we challenged our team members to think deeper and consider those tiny changes that can make a big impact in the lives of their coworkers, themselves and the company.
Peter Wendt, Mechanicsburgh Plant Manager- I will continue to celebrate team members' birthdays with cake and photos, and hopefully meet with a few more team members each month to get to know them better. I'd also like to start hosting appreciation lunches, and to continue offering a monthly lunch during safety meetings with team members and supervisors.
Debie Lowe-Cerne, Glenwillow Plant Administrator - I am working on having more patience with others, and to spread positive vibes throughout our plant in 2018!
Jennefer Rivera, Human Resources Manager - My business resolution is to be a team player, work diligently, organize and prioritize my work and become more efficient for my facilities and management team. Personal resolutions are to spend more time with my family, thank God more often (and not just when I need something), make the most of every moment and love more.
Sensiasor Rodriquez , De Pere Chaplain - My resolution will be to continue to listen to the hearts of our team members and address their needs to the best of my ability, either spiritually or naturally. My secondary goal is to intentionally make them feel they are important and show that Millwood Cares just as Jesus cares.
Josh Stipanovich, Marketing Project Specialist - In 2018, I am going to be more patient and continue to foster friendships with team members I don't get to see or talk to as often. As an outgoing person, I always enjoy meeting more members of the team that I haven't had a chance to interact with before!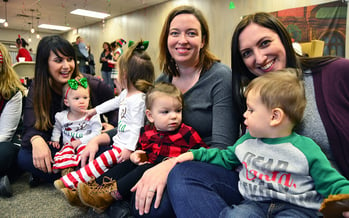 Victor Colon, Columbus Chaplain - My resolution is to continue to foster good communication with team members. Each week I would like to spend one-on-one time with a team member after our devotional and get to know that person better. I would also like to host more bible studies rather than devotionals, to help our team members develop a personal relationship with God.
Sapphire Wells, Human Resources Support Services - Mine is to remain grateful no matter the circumstances and to spread the message that muffins are cupcakes who believed in miracles. (We can definitely get behind that attitude of gratefulness, and will be sure to keep an eye out on miraculous muffins!)
Whether your resolutions last a week or a year, rejoice in the knowledge that your actions can positively affect those around you. You may never know just how much of an impression you make on someone by following through on your commitments and bringing light, no matter how small, to the world. Good luck to all our readers on their 2018 goals, and may the year bring you happiness, success and joy.